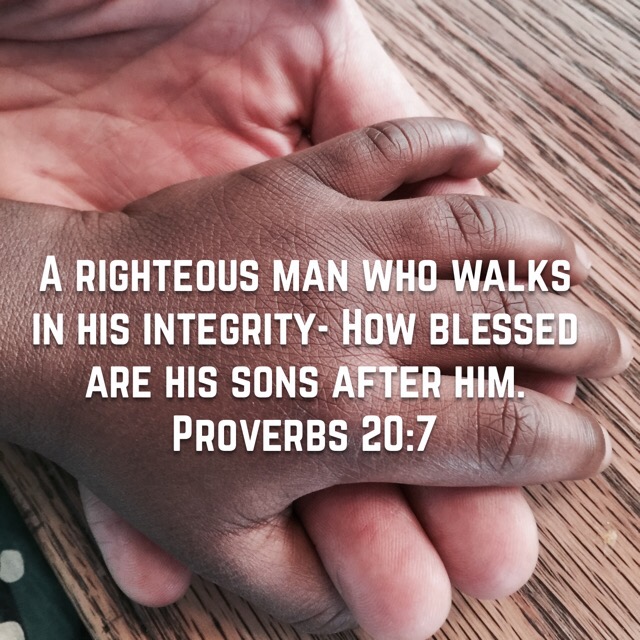 One of the greatest ways to serve and impact your family is for you to be righteous and walk in integrity. So what does that look like? If Christ is our righteousness, we might say it this way, "honestly walking in Christ" or perhaps "living the truth". When our whole hearts sincerely pursue Jesus with an honest and genuine faith our life is transformed and the lives of those around us because the Word is living through us.
I want my children to have that kind of life. I don't want to try to just show them a good example. I want them to have a heart that longs for Christ and to do His will. They best way I can encourage that is to live that myself. Our children will see how we react when we fail and our faith, hope and love through all of it.
Personal Reflection
How's your walk with Christ? Is He your righteousness? Are you walking uprightly with Him? Are you trying to show your kids the right behaviors or is your focus living for Christ? Ask the Lord to make you a person of integrity in Him
Prayer Focus
Gracious Father, we thank you for your Son Jesus and His obedience and finished work at the cross. We praise you that He is our righteousness. Help us to walk in that truth with integrity. Let us not only say but do your Word to your glory. Let our focus be Jesus rather than behavior. Give us a real passion for you. May our children see that and catch the passion. We pray all of these things in the power of Jesus' Name, Amen!
@brianfriedl
#parentingwithpassion #truthtalk4life #lovejesus